This poached halibut recipe is pretty much the easiest halibut recipe you'll make; because here's the thing, halibut it premium- I mean SUPER premium- so you really don't want to f*ck it up or else your cash is down the tubes.
I always hear on cooking shows "respect the product", and though I mostly roll my eyes when it's uttered, in this instance, poaching the halibut respects it very much.
Poached Halibut (or any fish really) Best Practices
The poaching liquid is KING. If the liquid you make your poached halibut in isn't boldly flavoured, this dish will fall flat. Taste, adjust the seasoning and whatever you do, make sure it tastes nice. Excellent poached halibut broth blends are fish stock with fine herbs, tomato white wine blend, and, of course, this Asian inspired broth.
ALWAYS oil your poaching liquid. You may be inclined to think that because this fish is being cooked in liquid it would inherently be moist- think again! It's the same reason we get pruny after a long swim. Do your poached halibut a solid and don't forget the oil in the poaching broth.
Focus on TEXTURES. Poached fish is flaky, light and delicious BUT having textures means that every bite is interesting. So add fresh herbs, or finely chopped vegetables to add interest.
---
Honestly, if cooking fish makes you nervous, poaching fish is tailor made for you; because it's very easy and almost impossible to stuff up.
Now, as previously mentioned, halibut can be an expensive proposition, so I want you to know that you can utilize other types of fish. Here's a list…
Salmon– because it's a fatty fish, you won't need a ton of oil in the poaching broth.
Cod– affordable and super delicious.
Trout– I'm from Canada and we love us some trout, so trout lol.
Arctic Char– this fish is currently very vogue and also very delicious.
So with that…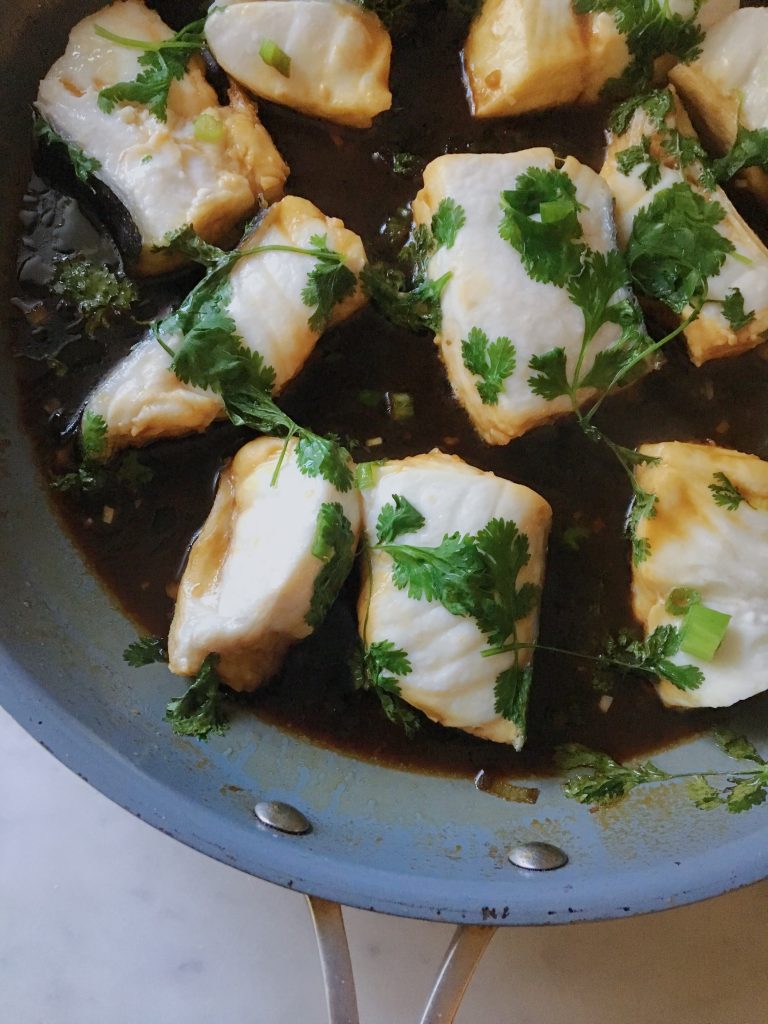 Asian Style Poached Halibut
2 lbs halibut filet, cut into small, square pieces
1 cup soy sauce
1 tbsp brown sugar
Juice and zest of 1 lime
2 tsp fish sauce
1 tsp sesame oil
1 tsp olive oil
1 bunch scallion, sliced
1/2 cup cilantro, roughly chopped
Combine all the ingredients except for the fish, scallions and cilantro. Add the liquid to a deep skillet (I used the Henckles stick resistant pan) and bring to simmer on medium heat.
Add the halibut pieces, half the amount of scallions and half the amount of cilantro, and bring to a simmer. Cover and cook for 6 minutes. Remove from heat and let rest for 3 minutes (also known as carry over cooking).
To serve, garnish with the remaining cilantro and scallions.
NOTE: this fish pairs beautifully with Oven Roasted Sweet Potatoes and Green Beans 😉
Suggested Products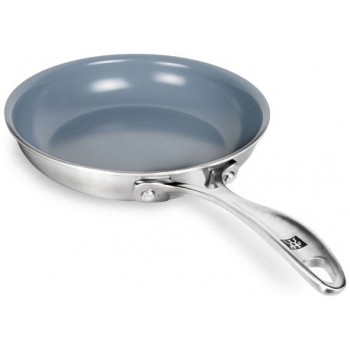 I use this Henckel's pan MULTIPLE times per week. And what I love about it is that it combines the best of a cast iron pan and a nonstick pan; meaning you get lovely caramelization but don't have to fight with the pan to get it clean.
Disclosure: There are some affiliate links in this post, but when it comes to cooking, I won't put anything on this page that I haven't verified and/or personally used.
xoxoBianca