When it comes to easy dinner ideas, especially planning easy weeknight meals, remember this, you either spend your time or you spend your money. Meaning, if you want to minimize your time in the kitchen, you're going to need to spend some coin; alternatively, if you want to save money, it's going to cost you time. Understanding this basic fundamental will create come up with easy dinner ideas that don't stress you out mid-week.

Easy Dinner Ideas: Sheet Pan Meals
Sheet pan meals have been getting a lot of attention lately, and for good reason. Sheet pans meals are the epitome of easy dinner ideas, because to put them together requires minimal prep and often delivers BIG on flavour. The best part of sheet pan meals are that they are set it and forget it. Lay out your ingredients, season, toss with oil and bake. In 30ish minutes dinner is ready.

There are a few HOUSEKEEPING NOTES for sheet pan meals, the first is ALWAYS use parchment paper, because clean up is legit one minute. Second is to pair your items based on density and cooking time, because a potato will take longer to cook than a green bean, you either have to give the potatoes a head start or choose a vegetable that will take a similar amount of time to cook. And lastly, don't overcrowd the sheet pan. All the items, regardless of what they are, should be in one even layer, to ensure even cooking.
Easy Dinner Ideas: Assembly Meals
Meals that are made up of – mostly – prepared foods are some the quickest and easy dinner ideas, to help you get dinner on the table fast; and if you're worried about calories in these prepared items, not all prepared foods are created equal.

Items like prepared pestos, salsas, guacamole, sauces, pre cut vegetables, pre-roasted chicken, microwave ready grains, like rice, and the like will save you heaps of time on your weeknight prep, while still being healthy by all definition. Knowing what convenience products to choose and how to pair them can be the secret to easy dinner ideas that come together in a pinch.
Easy Dinner Idea: Sheet Pan Pesto Chicken with Sweet Potato, Red Onion and Cauliflower

I made this recipe on the Marilyn Denis Show earlier this month (watch the segment below) to help highlight how easy dinner ideas are possible, no matter how much time you have to dedicate to the effort. I prepared and spoke on how one the tenants of easy dinner ideas is cooking once and eating twice.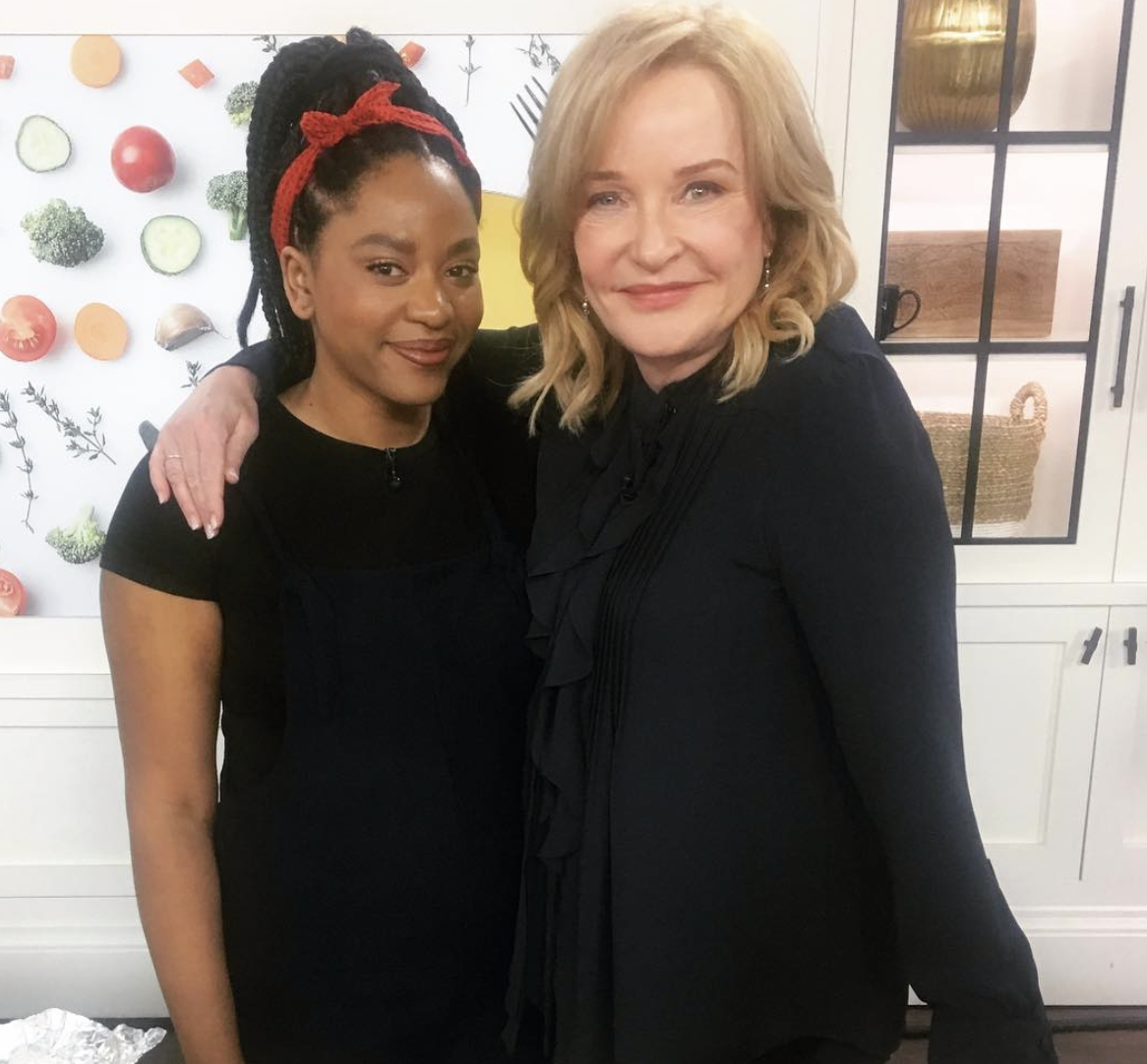 You can get the recipe for the Kale, Chicken and Sweet Potato Soup on Marilyn.ca… but without further ado, Sheet Pan Pesto Chicken with Sweet Potato, Red Onion and Cauliflower!

6 chicken breasts
2 medium sweet potato, peeled (if desired) and cut into bite sized cubes
1 red onion, sliced into half moons
½ head cauliflower, cut into florets
½ cup pesto (store bought is fine)
1 tbsp olive oil, divided
Juice of ½ lemon
¼ cup fresh basil leaves
1 tsp salt
1 tsp pepper
Preheat oven to 400F.
Line a large sheet pan with parchment paper.
In bowl whisk 1 tbsp olive oil with the pesto, remove a quarter cup of the mix and set aside.
In a bowl, first toss the cauliflower with the pesto, then lay on the baking sheet. Followed by the sweet potato. Add the onions to the baking sheet, without tossing in pesto.
Arrange the vegetables directly on the parchment, and arrange the chicken on a rack nestled on top on the vegetables; this allows the air to circulate around the chicken.
Season with salt and pepper and bake for 15 minutes. Remove the chicken and wrap tightly in foil and bake the vegetables an additional 10 to 15 minutes.
TO SERVE whisk together the lemon juice and the remaining pesto mix, serve the chicken and vegetables with a scoop of the dressing and garnish with fresh basil.
What are your tips for creating easy weeknight meals? Share in the comments!